Product Overview
Hornady is proud to offer Frontier Cartridge, a supplier of American-made, military-grade ammunition at affordable prices. Frontier Cartridge will feature Hornady bullets in all offerings to suit the needs of all shooters. Applications range from plinking, target shooting and hunting to law enforcement training and self-defense.
State-of-the-industry loading techniques and quality control procedures ensure the reliability of Frontier Cartridge rounds, which feature brass cartridge cases and military-grade boxer primers and propellant. Loaded on the same assembly lines that ammunition for the US Military is loaded on, this ammunition passes strict quality specifications to ensure reliability and accuracy. This ammunition is new production, non-corrosive, in boxer-primed, reloadable brass cases.
Note: Frontier ammo is loaded using military spec primers designed to reduce the risk of slam fire. These primers may not detonate in match tuned firearms with reduced power hammer or striker springs.
Features
Manufactured at the Lake City Army Ammunition plant
Loaded to US military quality standards
Uses quality Hornady components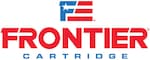 Made In United States of America