Product Overview
Sig Sauer Match Grade rifle rounds are engineered to excel in today's precision auto-loading platforms as well as bolt-action rifles. Consistent bullet weight retention with minimal velocity variations from optimized shell case metallurgy with premium primers. Rounds are precision-loaded using state-of-the-art, electromechanical monitoring for geometric conformity.
Features
Minimal velocity variations
Precision loaded for conformity
Maximum bullet weight retention
Renowned Sierra Matchking projectile
Temperature stable propellants
Note: Due to availability of components, this ammunition may or may not be shipped in nickel plated brass.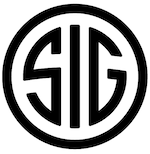 Made In United States of America